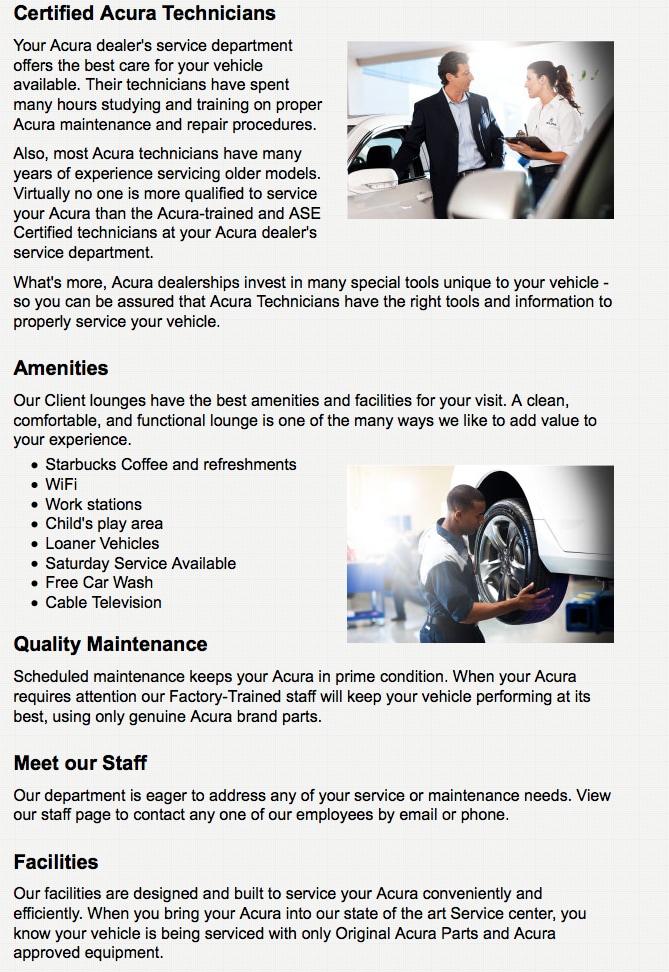 Symbol
Maintenance Main Items
A

Replace engine oil

B

Replace engine oil and oil filter




Inspect front and rear brakes




Check parking brake adjustments




Visually inspect these items:


   

Tie rod ends, steering gear box, and boots


   

Suspension components


   

Driveshaft boots


   

Brake hoses and line (including ABS)


   

All fluid levels and condition of fluids


   

Exhaust system


   

Fuel lines and connections
Symbol
Maintenance Sub Items
1

Rotate tires

2

Replace air cleaner elements


   

If you drive in dusty conditions, replace every 15,000 miles (24,000 km)





Replace dust and pollen filter


   

If you drive primarily in urban areas that have high concentrations of soot in the air from industry and diesel-powered vehicles, replace every 15,000 miles (24,000 km)





Inspect drive belt

3

Replace transmission and transfer fluid


   

Driving in mountainous areas at very low vehicle speeds or trailer towing results in higher transmission and transfer temperatures. This requires transmission and transfer fluid changes more frequently than recommended by the Maintenance Minder.  If you regularly drive your vehicle under these conditions, have the transmission and transfer fluid changed at 60,000 miles (100,000 km), then every 30,000 miles (48,000 km).

4

Replace spark plugs




Replace timing belt and inspect water pump


   

If you drive regularly in very high temperatures (over 110 F, 43 C), or in very low temperatures (under -20 F, -29 C), replace every 60,000 miles (U.S.)/100,000 km (Canada)




Inspect valve clearance

5

Replace engine coolant

6

Replace rear differential fluid


   

Driving in mountainous areas at very low vehicle speeds or trailer towing results in higher level of mechanical (shear) stress to fluid. This requires differential fluid changes more frequently than recommended by the Maintenance Minder.  If you regularly drive your vehicle under these conditions, have the differential fluid changed at 7,500 miles (12,000 km), then every 15,000 miles (24,000 km)
Service Your Vehicle at Acura of Athens Today!
At Acura of Athens, we are very eager to help our customers get the resources that they need for success. We offer up with an impressive service center, and we are always adding more services to better ensure that you are taken care of through out the servicing process. We are located just down the street from the Athens, Watkinsville, Gainesville, Winder, Monroe, and Greensboro, GA areas and look forward to offering you access to plenty of promotions and services for years to come.
Service Your Vehicle with Us Today!
We are a great place to turn to if you are in the market for vehicle servicing that you can count on. When you work with us, you will be able to get the right care for your model. We offer up with many of the services that you have come to enjoy such as tire rotations, state inspections, brake services and so much more. Aside from routine maintenance we also provide you with quick and easy access to more serious vehicles maintenance that can help you to get back on the road.
Schedule Service Today
One of the best ways to get the service that you need is to reach out to us and schedule it. We have a great online scheduling form that you can turn to. This form requires minimal information, and can be filed out in just a few minutes. Once you have submitted your form, we will be able to reach out to you to confirm a time that works best for you. Getting the service that you need is truly easier than ever before.
With access to so much, you will have no trouble at all getting the great service that you need. We can't wait to work with you.
Service Department Hours
Monday

8:00AM-6:00PM

Tuesday

8:00AM-6:00PM

Wednesday

8:00AM-6:00PM

Thursday

8:00AM-6:00PM

Friday

8:00AM-6:00PM

Saturday

9:00AM-5:00PM

Sunday

Closed